Topsy Turvy Planter: Your DIY Garden
Add a Unique Flair With a Topsy Turvy Planter
When you look at your garden, do you feel inspired? If you are looking for a unique way to make your garden stand out and perhaps transport you to an imaginary place from your childhood, try your hand at one of our newest DIY projects! This Topsy Turvy Planter will give your garden a great new vibe that your neighbors are sure to envy!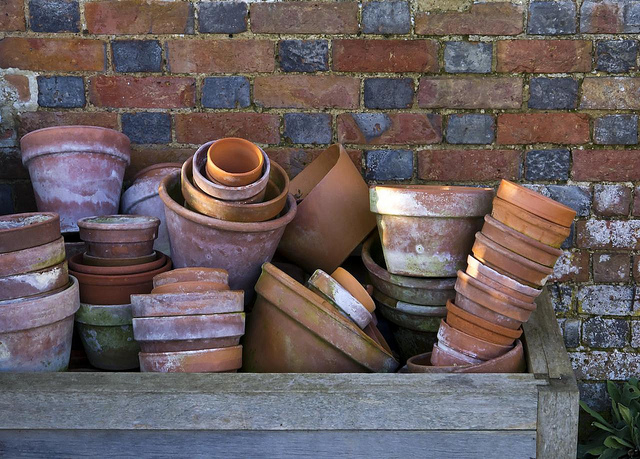 Materials:
1 Rebar about 6 feet long
1 Terracotta pot approximately 8 inches in diameter
4-6 Terracotta pots approximately 6 inches in diameter
1 BigYellowBag of Black Garden Soil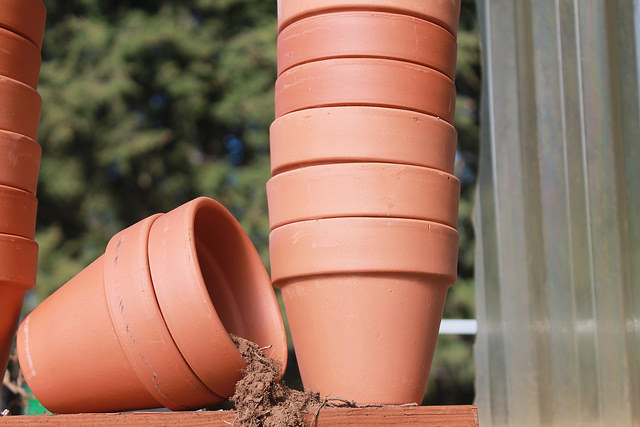 Instructions:
Choose the spot you'd like to build your Topsy Turvy Planter. It can be used as an accent in a garden or even a centerpiece.
Use a mallet to hammer the rebar into the ground. The deeper the rebar is, the more stable your Topsy Turvy Planter will be.
Place your 8 inch pot on the rebar, threaded through the drainage hole. Ensure the pot is sitting squarely on the ground. Otherwise, the rest of your Topsy Turvy Planter may be affected.
Fill the base pot with BigYellowBag's premium Black Garden Soil to ensure your plants will grow their best. To find out how BigYellowBag does the most for your plants, click here.
Next, place one of the 6 inch pots on the rebar through the drainage hole. Set this pot on top of the soil in the base pot. Tilt the second pot so that it rests against the edge of the base pot.
Now, you can add a third pot to the rebar. Place this pot on the edge of the second pot. Tilt the third pot the opposite direction to create the Topsy Turvy Planter effect.
Continue adding the rest of the pots in the same way. Make sure you continue alternating the direction of the tilt.
Once the stack is completed, hammer any excess rebar further into the ground. Fill each pot with Black Garden Soil. Ensure you don't overfill the pots or you may lose too much soil when watering.
Be creative when you plant your choice of flowers or herbs.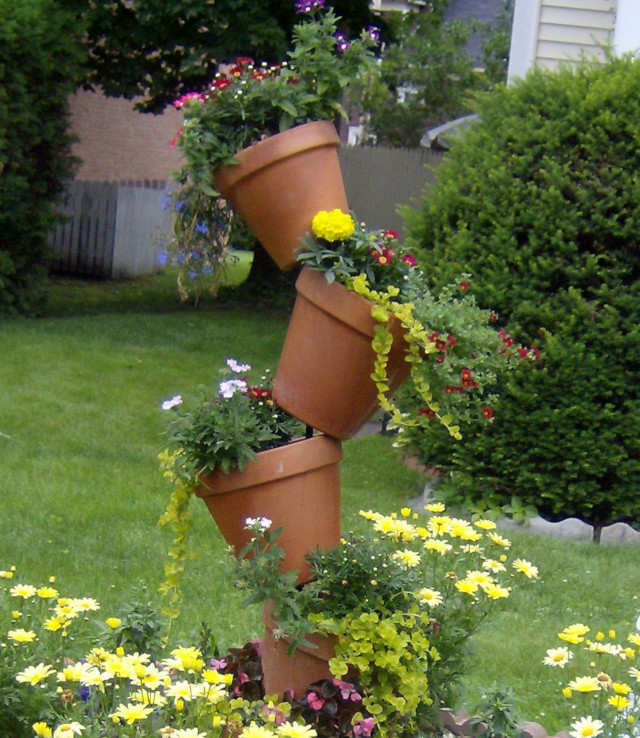 Stand Back and Enjoy!
Once you've planted and watered all the pots in your Topsy Turvy Planter, step back and see the amazing results! This planter will give your garden a unique feature and cause people to do a double take when strolling by. Alternatively, you can add more of your personal flair by decorating and painting the pots prior to stacking. You can take a look at FineGardening.com for ideas on decorating your pots! However you choose to do it, put your DIY skills to the test with this awesome project!