MILLERS FARM PUMPKIN FEST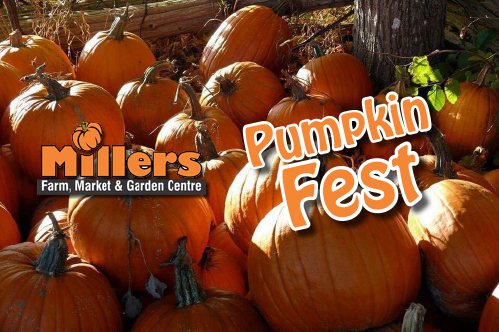 It's that time of season again when the leaves turn to vibrant colors, the temperature drops, and Millers Farm Market holds its Annual Pumpkin Fest. Just south of the village of Manotick, the Millers' family run business looks forward to greeting their yearly visitors from September to the end of October.
A lot of Families come to the farm during the spring, summer and fall months, but autumn seems to be their favourite time to visit. During the fall season, Millers offer pick-your-own pumpkins, family wagon rides, exploring the corn maze and other popular activities. There is also plenty of seasonal décor to enjoy.
Millers' Farm is known best for their fresh produce. Recently, they won the People's Pick Award for the "Best Fresh Fruit and Vegetable Provider" in Ottawa. They have over 50 acres at the farm where Ron and Simon grow their produce on an annual basis. Squash, gourds & pumpkins are very popular in the fall especially with Thanks Giving and Halloween around the corner. For the flower lover in the family, Millers Farm also has a large assortment of potted mums available during the fall season. When you come by to visit, don't forget to bring in your empty BigYellowBag's, because you can exchange them for a pumpkin!