Blooming Trees with BigYellowBag
Hanami, 'flower viewing,' is traditional Japanese custom. Across the nation, people will take time to gather with friends and family and celebrate while appreciating the evanescent beauty of the blooming trees; usually cherry (sakura) trees, and to a lesser extent, the plum (ume) trees.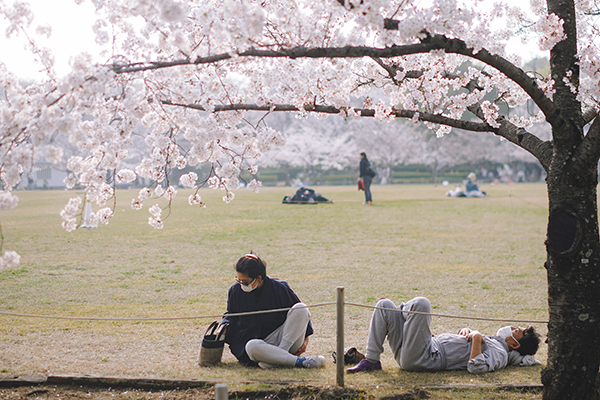 Beautiful Blooming Trees for Your Landscape!
It's a tradition that's been making its way to other parts of the globe, and no wonder – in North America alone, there are many varieties of trees that blossom each year as part of their regular rhythm within nature!
Serviceberry Trees
One of the first trees to bloom after winter's departure is the serviceberry. The flowers on this tree have five long, white petals that grow in groups. This tree has a very light fragrance; some people have a hard time smelling it at all.
Eastern Redbud Trees
Another tree that blooms in early spring is the eastern redbud. The blooms on this tree are generally pink, with a wide range of light to dark. These trees go bright yellow in the fall, so they have a lot of colour to add to your landscape.
Forsythia
If you don't want to wait for the return of sweater weather to get a dash of yellow in your yard, consider planting a forsythia. This shrub looks rich and full when it's in full bloom; it's like your own little dash of sunshine.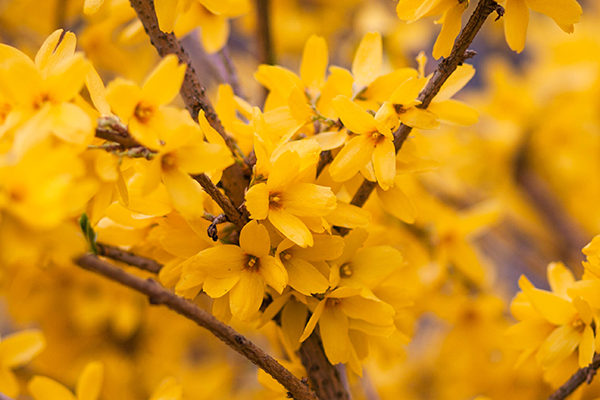 "Hanami" in The West with Cherry and Plum Trees!
From May to June, many North American communities have their own Hanami season, with cherry and plum trees blooming. Both of these trees sport delicate blooms that can range from pure white to deep pink. Cherry trees also have a light scent, whereas plums have a very flowery smell to them.
Southern Magnolia
If you love a fragrant tree, southern magnolia is a good choice. In the spring, these trees have lovely cream-coloured flowers to complement their large, shiny, dark green leaves.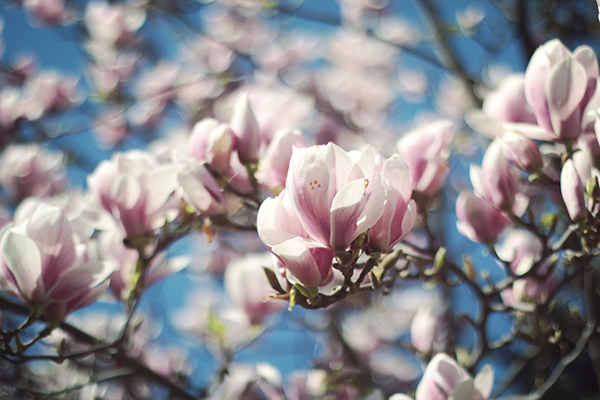 Flowering Dogwoods
Flowering dogwoods have a striking silhouette. They spread their branches wide, which means they're interesting to look at even when they don't have blossoms on them. However, when they do, they're even more stunning. The blooms on flowering dogwoods come in several colours, including white, pink, purple and red.
Hydrangea Trees
The blooms on tree hydrangeas don't grow all over, but instead in cone-shaped clusters. This makes it look like the tree is holding little bouquets of flowers all over. The blooms are sweet and delicate, usually coming in white or shades of pink.
Rhododendron Trees
Speaking of delicate, rhododendron trees also have clusters of flowers, but with blooms that are a bit bigger and look a bit lacey. They can be unapologetically bold and bright in their colouring, with vibrant pinks, purples and reds available – though there are lighter hues, too, if that's your preference.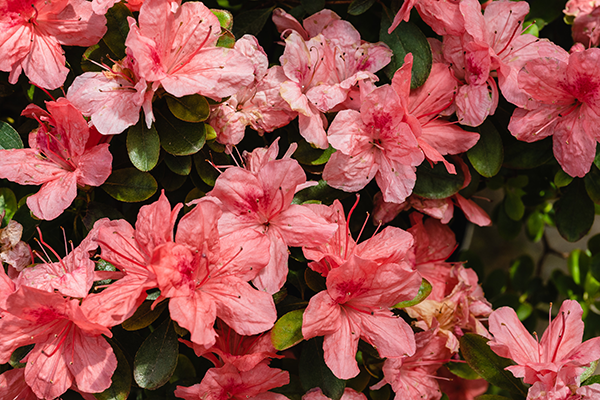 Crabapple Trees
The final blooming tree on our list is the flower crabapple. Contrary to what its name might suggest, this tree's flowers are friendly and inviting, with five rounded petals making up the blossom – they almost look like an open hand, waving at passersby – and a very sweet smell that complements their beautiful appearance.
There are MANY varieties of Blooming Trees…
Of course, there are many other blooming trees and shrubs that you can grow across North America. Talk to the folks at your local garden centre, or horticultural society, if you're not sure which would be the best ones to grow in your specific area and to get the look you want for your garden.

When you do decide to plant a new tree, though, remember to give it the best start possible in its new home by using BigYellowBag Black Garden Soil. Most trees need to have a good balance of moisture and drainage, which is why our soil is such a great choice. It's a perfectly-blended mix of compost, manure, and two kinds of loam (black and peat). Loam is a special soil that is made from a mix of sand, silt and clay, so that it can retain moisture while also draining well.
BigYellowBag Black Garden Soil is also packed with organic matter and essential nutrients, meaning that it will give your newly-planted trees the 'food' they need to grow well. Be sure to incorporate a good amount of your native topsoil when planting trees! You'll want a lot of structure in the soil, along with the Black Garden Soil nutrients to make sure your new tree is well supported.