BigYellowBag's Countdown to Spring Sweepstakes 2023!
---
We are proud to announce that BigYellowBag's Countdown to Spring Sweepstakes is back by popular demand for 2023. Winter is slowly fading away across North America, and to celebrate the arrival of Spring, we're counting down in a BIG way. This year's sweepstakes are going to be a little more concise, but we're still giving away a TON of BigYellowBags to eager gardeners like you! In fact, this year's sweepstakes will have our biggest daily giveaway EVER! Between March 13th-17th, enter the sweepstakes through our daily contest emails.
---
Awesome Prizes for BigYellowBag's Countdown to Spring!
We've listened to our dedicated customers, and this year we're giving away more of what you want… BigYellowBags! Every day of the contest, we're giving away 10 FREE BigYellowBags, and at the end of the contest, on the first day of Spring, we'll be drawing for our Grand Prize… This is the biggest prize we've ever offered. Free BigYellowBags, every year, for the next DECADE. One lucky gardener will have all their soil needs taken care of, for the next 10 years!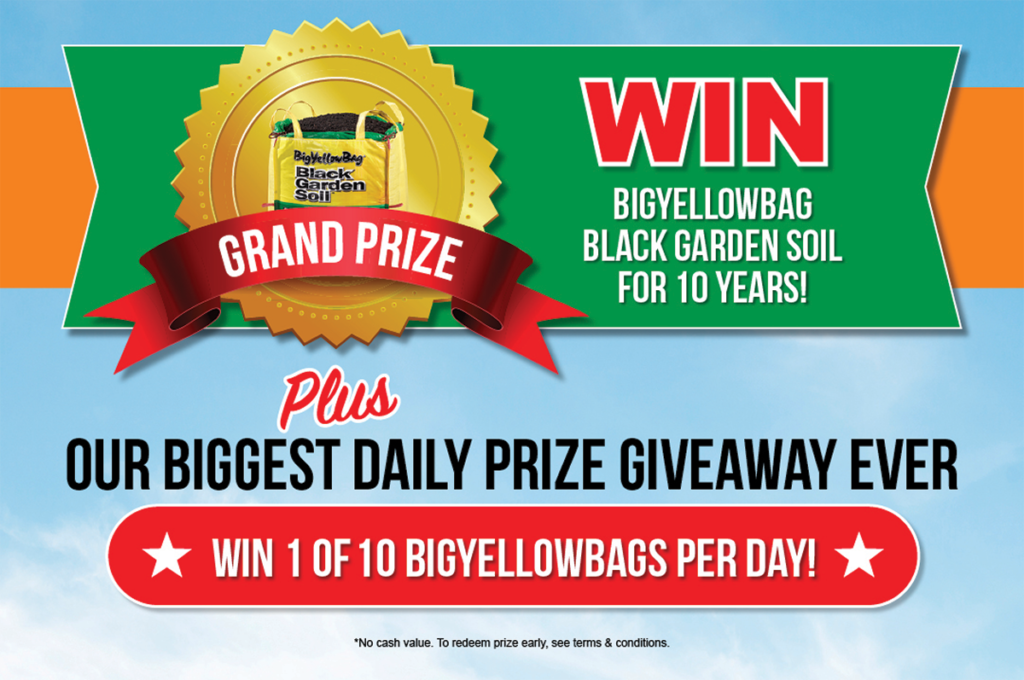 How to Enter Our Spring Sweepstakes
If you're a BigYellowBag Enewsletter Subscriber, check your email daily from March 13th-17th, 2023 and click on the entry link to enter each daily draw! Become an email subscriber by signing up for our Enewsletter at this link!
In order to enter the sweepstakes, you must live in an eligible BigYellowBag delivery zone. Head to this link and enter your postal/zip code. If you're in an eligible delivery zone, a comprehensive product list will populate and you can enter to win the sweepstakes.
Make sure you're following BigYellowBag on Facebook and Instagram to check out daily prizes and winners! They will also be listed at the bottom of this blog post!
Each time you enter, you're eligible to win one of the Daily Prizes, 1 of 10 BigYellowBags… EVERY DAY. Not to mention each daily entry will count as one entry towards the grand prize. Come back and enter each day for your best chance to win a BigYellowBag, OR the Grand Prize, FREE BigYellowBags for a DECADE!
Full Terms and Conditions here.
---
Day 1 Winners – March 13th, 2023
Angela Norris – Mississauga, ON
Birdie Miller – Salt Lake City, UT
Tina Horvath – Taber, AB
Lynn Joki – Calgary, AB
Patrick Macnamara – Feasterville, PA
John Hatchett – El Paso, TX
Rachelle Brown – Mesa, AZ
Beth Wieder-Castellano – Blauvelt, NY
Andi Armour – Vancouver, BC
Gabriella Angaran – Thornhill, ON
Day 2 Winners – March 14th, 2023
Kelli Sager – Guelph, ON
Cheryl Ward – Ottawa, ON
Kristel Moxness – Syvan Lake, AB
Frank Lombardo – Circleville, OH
Susie Van Horn – Albuquerque, NM
Lark Kammerer – Pitt Meadows, BC
Lynn Karbiener – Monroe, NY
MH Davidson – Charlton, NY
Veronica Robertson – Kingston, ON
Amanda Johnson – Grande Prairie, AB
Day 3 Winners – March 15th, 2023
Stewart Coppins – London, ON
SusieJean Johnson – La Mesa, CA
Irene Isleifson – Lethbridge, AB
Emily Boersema – Langdon, AB
Barbara Kirsch – Huntingdon Valley, PA
Seth Kaiser – Rochester, NY
Lori Parker – West Kelowna, BC
Rick Himmelspach – Billings, MT
Joseph Nowogorski – Oshawa, ON
Ronald Merk – Barrie, ON
Day 4 Winners – March 16th, 2023
Andrea Norton – Caledonia, ON
Jennifer Jackson – Ottawa, ON
Dena Denomme – Leduc, AB
Frank Harbert – Hilliard, OH
Diane Wirth – Albuquerque, NM
Anthony Drabik – Orchard Park, NY
Nancy Messina – Scotchtown, NY
Leslie Eagle – Lake George, NY
Lorna Thorne – Kingston, ON
Kayla Richard – Grande Prairie, AB
Day 5 Winners – March 17th, 2023
Janelle Crawford – Cambridge, ON
Leann Edwards – Centerville, UT
Maureen Orton – Airdrie, AB
Debbie Gilmore – El Paso, TX
Charlotte Feldmann – Port Coquitlam, BC
Stephen Taravella – North Tonawanda, NY
Natalee Brasseur – Kamloops, BC
Jane Hensel – Queensbury, NY
Brad Da Silva – Oshawa, ON
Colin Parker – Aurora, ON
Grand Prize Winner
David Graham – Ancaster, ON
Thank you to EVERYONE who participated in this year's contest, and congratulations to all our winners!
All the best and happy gardening!

-The BigYellowBag Team!