Wooden Pallets: Your DIY Garden
When you spend days on end out in your garden weeding, watering, and maintaining your gorgeous plants, it can get a little tiring. Sometimes, living and working in that same space day after day can get somewhat dull. Though it may be a little late in the season to rethink your plant selection, it is not too late to try out a new DIY project to liven up the space! Using some old wooden pallets, you can be sure to find a project that fits your style, needs, and garden!
Garden Walkway with Wooden Pallets
While you may not have considered this, wooden pallets can make an excellent garden walkway! Since this cute project doesn't require whole wooden pallets, it's ok to find some defects or ugly bits on the pallets you select for this project. By using a crow bar, pull apart the wooden pallet and set the boards aside.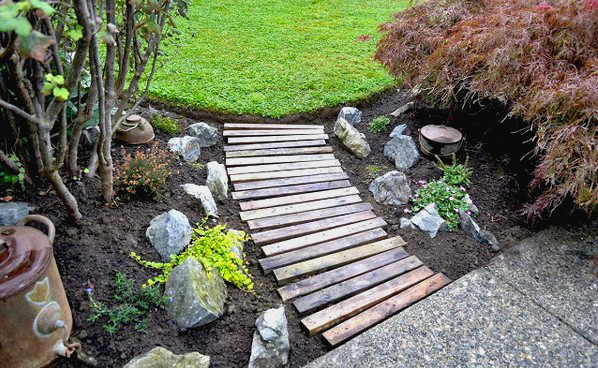 In the space where you want to create your garden walkway, remove some of the existing soil. Replacing some of this soil with gravel will help keep the wood from sinking and encourage water to drain elsewhere. This can help with rot and keep your path beautiful for more than a few seasons! Once you've placed the gravel, place your boards one by one to create the walkway. This creative path will be great when it comes time to weeding! It will allow you to manoeuvre around in your garden without compacting the soil.
Patio Set with Wooden Pallets
While we all love the rewarding hard work involved in maintaining a beautiful garden, sometimes you just need a break! A little seating area is a perfect place to sip coffee or lemonade and simply enjoy the work you've done. However, even though a conversation set is a nice addition, these sets can cost quite a lot of money! But, with a little ingenuity, some wooden pallets, and maybe a couple outdoor cushions, you can make your own DIY conversation set.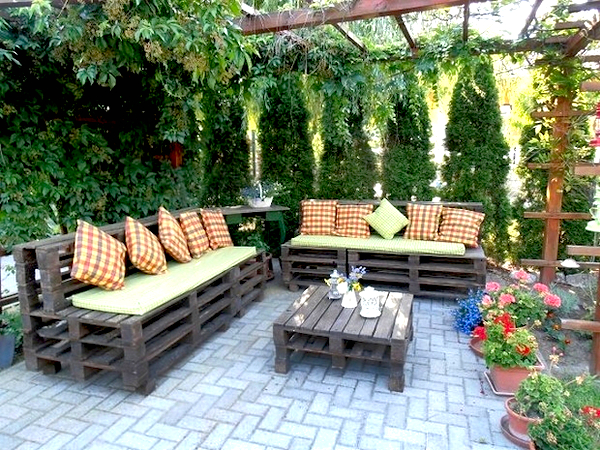 Stacked three wooden pallets high with a backrest made of half a pallet, you can make your furniture as big or as small as you want! Be sure to secure them together carefully to avoid any mishaps. Feel free decorate them with a nice stain or paint color. Adding the extra touch of a few outdoor pillows and cushions could be just what you need to make this space your own!
DIY Coffee Table
Though after putting together that nice conversation set you may be ready for a break, you still need that final addition for this outdoor living room. A coffee table will be sure to bring the space together, add a nice footrest, and even some great storage! In its most basic form, simply stack two wooden pallets together and add some caster wheels for easy movement. For a higher table, you can also include some small spacers like the ones shown in the photo below. A matching stain or paint color will certainly tie this set together! Plus, you'll save some big bucks by creating your own conversation set out of wooden pallets!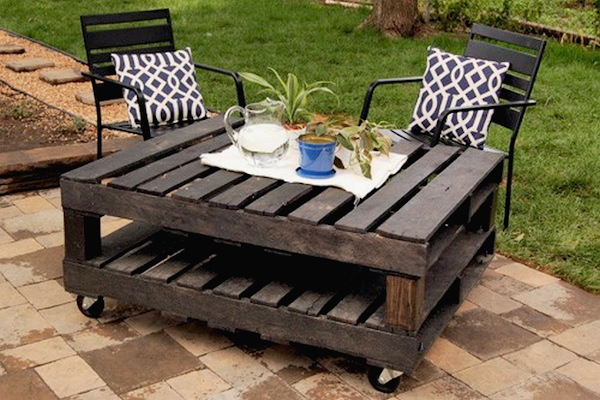 Wooden Pallet Garden Swing
Sometimes a simple conversation set just won't cut it for the kind of relaxing you need after a long day of gardening. For these occasions, you can build yourself a beautiful garden swing using wooden pallets. Using either two wooden pallets for a larger swing or just one for a smaller sitting space, you can create the perfect swing for your space.
First, reinforce your pallets to ensure they can handle the weight of a person lounging. Next, test the strength of a tree branch for hanging. Alternatively, if you are feeling particularly handy, DIY your own swing frame for hanging the swing. Be sure to use heavy duty rope so that you don't risk the swing falling. Once again, a nice stain or paint color will finish off the look nicely! You can also include a mattress with a vinyl cover or some outdoor fabric to protect any cushions you choose.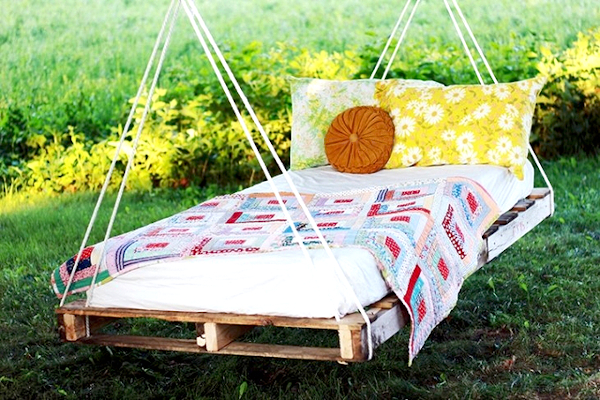 Wooden Pallet Wall Planter
Perhaps one of our favorite projects for repurposing wooden pallets is wall planters! These are great space savers when it comes to planting an herb garden. Otherwise, they liven up a space on your fence where color was lacking. Particularly if you run into issues with a small garden, a pallet wall planter can be just the thing. Simply mount them carefully on the wall or fence, add a few boards to hold in the soil, and you're good to go!
Since you want to make the most of the small planting space, you need to consider carefully the type of soil you select. Just any soil will not do. BigYellowBag's Black Garden Soil is sure to include all the nutrients your plants need. This soil will give your herbs, flowers, and other plants the best chance at success in your wooden pallet wall planter!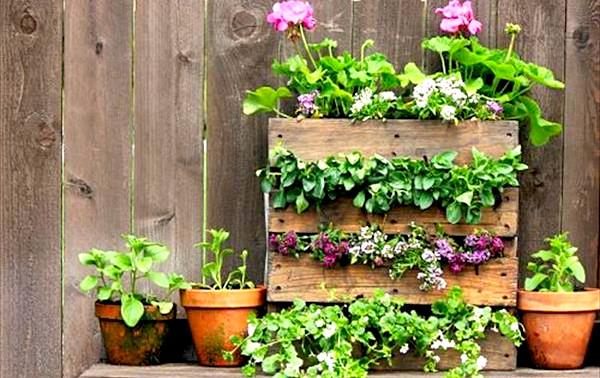 Whether one or two, or all five DIY projects speak to you, be sure you don't throw out those wooden pallets! These are just a few of many great examples of ways to reuse these unique pieces. It's time to liven up your garden with another DIY project, don't you think?