BigYellowBag's 12 Days of Spring Sweepstakes 2021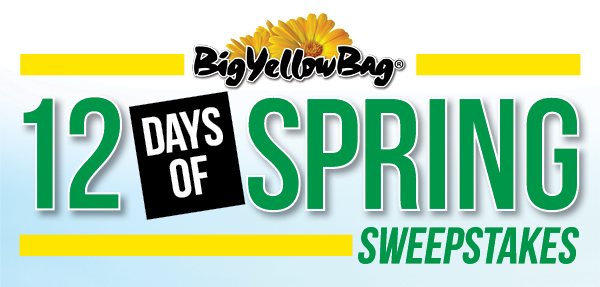 Here at BigYellowBag, we are constantly looking forward to spring. The snow that covered our lawns melts away in the warm sun; chirping birds return from their long journey south; and those bulbs we carefully planted before winter are starting to creep out of the ground! Soon our yards will be teeming with life but until then, we're kicking off Spring a little early with our 12 Days of Spring Sweepstakes!
How to Enter Our Spring Sweepstakes
In anticipation of the greatest season of the year, we're launching BigYellowBag's 12 Days of Spring Sweepstakes! Some of our locations held a similar sweepstakes last year, but we've made some changes this year. Be sure to read the instructions below and get the best chance to win in 2021!
If you're a BigYellowBag Enewsletter Subscriber, check your email daily from March 8th-19th, 2021 to enter each daily draw! Become an email subscriber, AND get ANOTHER chance to win a FREE BigYellowBag by entering WinCode: 12DAYS2Z1 here.
Make sure you're following BigYellowBag on Facebook and Instagram to check out daily prizes and winners! They will also be listed at the bottom of this blog post!
Each time you enter, you're eligible to win one of the Daily Prizes (1 of 3 BigYellowBags… EVERY DAY. Not to mention each daily entry will count as one entry towards the grand prize. Come back and enter each day for your best chance to win a BigYellowBag, OR the Grand Prize, an Ultimate Lawn Care Bundle!
Full Terms and Conditions here
Grand Prize: Ultimate Lawn Care Bundle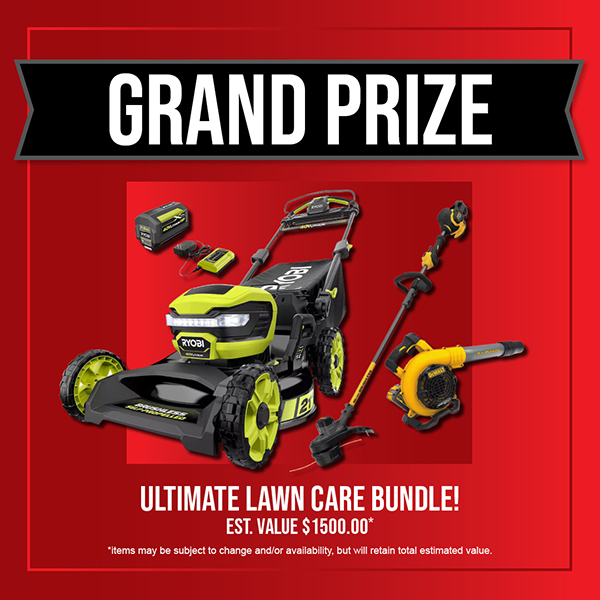 The Grand Prize Ultimate Lawn Care Bundle will give you everything you need to cordlessly maintain your yard! We picked out a few industry leading battery powered tools that we know will be tons of help for any BigYellowBag customer!

"RYOBI redefines power and convenience with the new 40-Volt 21 Self-Propelled Cordless Lawn Mower. Combining 40-Volt of lithium power with advanced brushless technology this mower delivers GAS-LIKE POWER, surrendering nothing but gas. Featuring Rear Wheel Drive this mower increases your traction making it easier to maneuver and almost effortless to use."

"The DEWALT 60V MAX Handheld Blower powers through debris at 129 MPH. It features a variable speed trigger and speed lock for total power control, and its lightweight and ergonomic design maximizes control and minimizes stress on your arms."

"For the perfect addition to your yard work toolkit, look no further than this FLEXVOLT 15-inch 60V Lithium-Ion Cordless Brushless String Grass Trimmer. Featuring a high-efficiency brushless motor that maximizes run time and motor life, each trimmer has a 15-inch cutting swath allowing you to cut more, faster. Includes a variable speed control and an ergonomic lightweight design."

Win BIG with BigYellowBag's 12 Days of Spring Sweepstakes!
Follow BigYellowBag on Social Media!
BigYellowBag Facebook
BigYellowBag Instagram
To enter the contest, click to your local BigYellowBag supplier's Sweepstakes page each day from the daily emails and complete the form. It's that easy! Sign-Up here by entering the WinCode: 12DAYS2Z1


12 Days of Spring Sweepstakes – Winner List
Monday March 8th, 2021 (DAY 1)
– Andy Teerlink – UT
– Nagui Mansour – ON
– Lawrence Kensy – NY
Tuesday March 9th, 2021 (DAY 2)
– Shirley DiCecco – ON
– Scott Tipton – OH
– Jeri Olszak – AB

Wednesday March 10th, 2021 (DAY 3)
– Denise Miner – NY
– Terry Valliere – ON
– Kimberly Willery-Panter – UT
Thursday March 11th, 2021 (DAY 4)
– Martin Uitvlugt – BC
– Maureen Makohin – ON
– Tim Tanz – MO
Friday March 12th, 2021 (DAY 5)
– Ruth Lopez – MT
– Rebecca Redmond – ON
– George Habig – NY
Saturday March 13th, 2021 (DAY 6)
– Herman Vanderlaag – ON
– Fanny Paz Martinez – AZ
– Pamela Longhurst – ON
Sunday March 14th, 2021 (DAY 7)
– Due to the overwhelming response to our 12 Days of Spring Sweepstakes, we experienced technical difficulties during the Day 7 Draw. To make up for it, we will be drawing for 6 FREE BigYellowBags in tomorrow's draw, Day 8! Any successful entries from yesterday's draw will be counted. Note: We have had to change the look and feel of the contest page, so be aware that the page will look different than it has on previous days.
Monday March 15th, 2021 (DAY 7 & 8)
– Christina Marineau – ON
– Doreen Dowiak – NJ
– Mary Ramo – NY
– Michael Joostema – AB
– Miho Ely – AB
– Peter White – ON
Tuesday March 16th, 2021 (DAY 9)
– Robert Leel – BC
– Earl Roe – TX
– JP Szarak – ON
Wednesday March 17th, 2021 (DAY 10)
– Gail Hache – AB
– Ronda Kelly – NM
– Shauna Young – ON
Thursday March 18th, 2021 (DAY 11)
– Mohinder Bajwa – BC
– Craig Ranta – ON
– Luke Mackie – AB
Friday March 19th, 2021 (DAY 12)
– Michael McCormick – CA
– Fred Ackerman – NY
– Trinitas Chisholm – AB
Grand Prize Winner
– Jane Newland – Cambridge ON